Read More
Starting in the quiet farming district of Mount Kilcoy, today's adventure took us in a big loop up some steep hills into Conondale National Park, before a nice long roll down the mountain back to our starting point.




I visited this beautiful area a couple of years ago and was glad to return to its emerald pastures and imposing mountains.


Eric stopped for a quick chat with Grahame – a local retiree who was out for a walk.


We soon reached the end of the paved road and enjoyed the cool shade as a quiet lane led us to the national park boundary.
The track grew steeper…
… and even steeper…
… and then crazily steeper.
"Sorry guys," I mumbled. "I didn't realize it was going to be like this. It shouldn't get much worse than this."
Unfortunately, it did. The hike up from McCauley Lane to Beacon Road was one of the most difficult I have done. My shoes slipped dangerously as I tried to push my bike up the hill. Eric kindly helped me out a few times and pushed my bike for me.
With relief we reached the top and were able to hop back on the bikes again.
Vast fields of ferns covered the ground under towering eucalytps. It felt good to be here.
We stopped at the ruins of Brandons Sawmill.
Bits of the once busting mill lie dormant.
I'm still amazed at some of the places Clare can get her bike!


Leaving the mill, we headed north along the top of the range. The road undulated continuously with short rolls downhill followed by challenging grinds up the other side. It was tiring work.
We stopped for a break at the junction of the Jimna and Kenilworth roads. On many of our travels in Conondale National Park we've come across lonely signs pointing into the forest showing the way to Jimna. Paul thinks that "All Roads Lead to Jimna" would be a great title for a book about Conondale National Park.
The relentless up and down of the undulating road took its toll…
This was beautiful country – but the massive hill climb at the start of the day had sapped our energy. We were running low on water too.
When we encountered Kilcoy Creek we splashed in the delightfully cool water like excited children. I filled a couple of water bottles and submerged my head in the bubbling flow. This was the only creek of our ride – we were fortunate to come upon it at the right time.
Clare showed us how to relax with style.
We stuggled up one final hill-climb under towering ferns. A quick glace at the elevation profile on the GPS showed that we didn't have far to go before we could roll down the hill.
What followed was 6km of white-knuckle descent as we plummeted almost 600 metres down the range. Our uphill exertion at the start of the day was now being repaid by the gravity gods.
Within minutes we reached the bottom of the hill as it spat us out onto Mount Kilcoy Road.
With the peak of Mount Kilcoy looking down on us, we eased back to our starting point at the local school.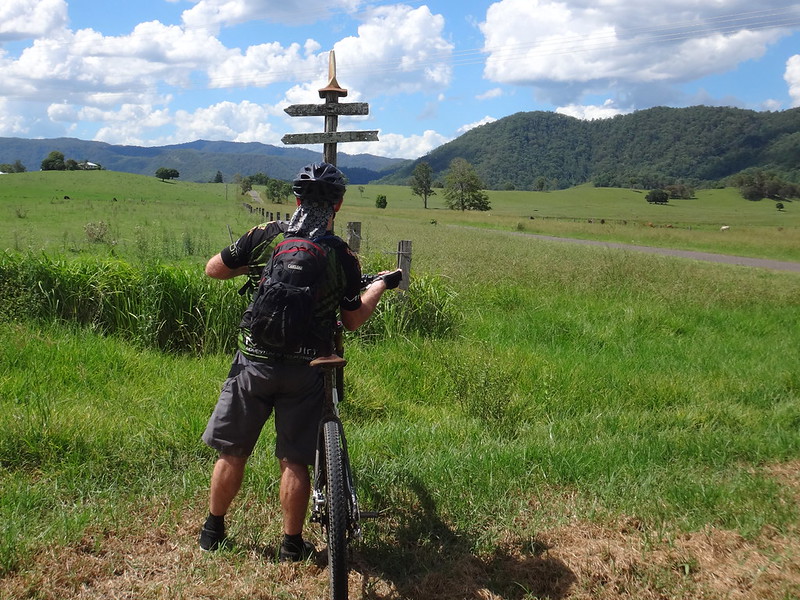 We rode about 57km in six and a half hours. During that time we climbed over 1,700 metres in vertical ascent, and I burned 3,000 kcal.
I'll rate this one 9.5 out of 10 on the tough-o-meter. The hot weather made this ride more difficult. We were fortunate to find water in Kilcoy Creek when we did.
I wouldn't recommend trying to push a bike up McCauley Lane like we did. I suspect we will need to return and try to find a more reasonable way up the hill.
Thanks Becca, Eric, Darb, Paul and Simon for another memorable day out on the bikes. We're so lucky to be able to do this every week!