Read More


Every so often we're lucky enough to do a ride which I'd call "Iconic" – something that reminds us how lucky we are to be able to explore this beautiful land on our bikes, and makes us want to bring friends back to see it with us.
I think today's adventure through Cannon Creek in the "Scenic Rim" between Boonah and Rathdowney is one of those iconic rides.






Apart from the stunning views, I had another motive for riding in this area – it closed a gap in my map between Boonah and Rathdowney – one that I had wanted to complete for several months.




We set off on a damp foggy morning from Boonah and headed up into the hills near Allandale




After half an hour of climbing up some very steep dirt roads, we found ourselves above the fog, with the bright autumn sun beaming down, and views to the horizon in every direction.
With relief I thought to myself, "Yes! We've come to the right place today."
We rode through remote undulating country, following Geiger Road down some fast descents and up more challenging climbs.
The great thing about riding a mountain bike in this sort of country is that signs like "Bridge Closed" don't cause any problems. After making sure the path ahead was safe, we lifted the bikes over the barriers and continued on our way.
At the top of Geiger Road we were stunned by the view of the mountains to the south. Mounts Lindesay, Ernest, Barney and Maroon loomed over us impressively.
"You see that hill over there?" I said pointing to Knapps Peak off to the right, "We're going to ride around the back of that, on a ridge between it and Mount Maroon."
A couple of the others shook their heads. This was rough country and I think we were wondering if we had bitten off more than we could chew.
We felt like we were riding on top of the world as we cycled over the rolling plateu along Green Hills Road…
Every few minutes we slowed down or stopped to gawk at another impressive vista.
What a spectacular place!
Eventually we left the road to follow a road reserve down the hill. When I looked at it on the maps, this road reserve looked like it would be a bit more interesting than the alternative of just rolling the road….
"Well this definitely isn't boring" I said to Darb as we hopped over a rough rock garden that was too rugged to ride over.
Sometimes "Interesting" and "Difficult" go hand-in-hand.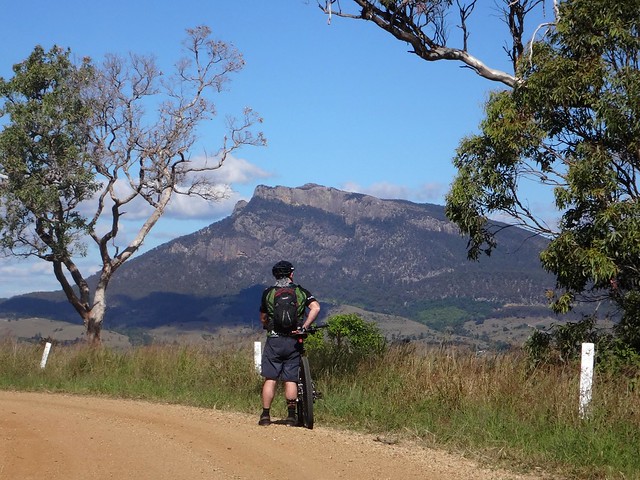 After rejoining the dirt road, we headed south with the monolith of Mount Maroon growing larger ahead of us.
Becca missed the turn-off and rolled down a long hill for a couple of kilometres.
As the rest of us waited at the top, I called her on the phone.
"You've gone too far. You're going to have to ride up that hill," I said to Becca.
If it was someone of lesser ability I think we would have changed the route to save them having to climb back up the hill. But Becca is competing in a tough 4-day race next week, and the rest of us are awestruck by her incredible fitness. So we rested at the crest and kindly let her do a bit of extra "training".
To her great credit, she made it back at an impressive rate, and didn't complain at all.
Although it's called "Ridge Road", it's barely a farm track. We followed it eastwards around the back of Knapps Peak, through numerous farm gates, with the mountains looking down on us from the south.
In places it was difficult to tell if we were on the road reserve, or on someone's farm track, but we faithfully followed the course on our trusty GPS and stayed out of people's front yards.
Although the road followed a ridge, it was very steep in places. I tried, but ended pushing the bike up one hill, while I watched as Darb and Becca powered up. I would have yelled out encouragement but I was too puffed.
We eventually met up with some tracks we had ridden a month or two ago, and said "Hello" to a friendly gnome that we had met last time.


Although we had each taken 5 litres of water with us, we ran dry at the 50km mark. Thankfully a kind farmer let us refill at a rainwater tank.
It tasted good.
With water ample water, and tired legs, we left Maroon started the return trip to Boonah.
It was a long way to the top. Becca had already accidentally done it once earlier in the day. Now it was our turn to grind up this steep two kilometre hill.
The climb was very tiring so we took some time out at the top to enjoy the views and catch our breath…
As the sun sank lower in the sky, the views grew more beautiful, but it also alerted us to the fact that we were running out of daylight, and we had a long way to go.
Back through Cannon Creek we rolled, thankful for the long easy descents that let us make up for lost time, and rest our legs at the same time.
On long rides, even though the hills towards the end of the ride aren't the biggest, they are still challenging.
As the sun edgeed towards the horizon, we crested the final big hill before Boonah…
… and rolled back into towm: tired but happy.
All up we rode 85km in just over 8 hours, climbing about 2,000m in vertical ascent. I burned 4,650 kcal.
This ride rates 10 out of 10 on the tough-o-meter.
Don't do it in Summer. Take plenty of water. Be prepared to fill up along the way.
If you look at the map of this ride, it's basically two loops joined by a common section. You could do the top loop by itself as a 40km ride. By itself that would probably rate 8 out of 10 on the tough-o-meter, and would suit a larger group.
Thanks Becca, Darb and Paul for another memorable ride!